It's easy to forget these days that kids can be just as creative as they are adorable and fun loving. That's why we parents should always be looking for ways to encourage the little ones to be as artistically active as possible. That's also why products that might seem really simple, like childrens easels, are so much more important than most people realize. In a world where the computer and television set are so dominant, it's important to give children something truly creative they can do in the real world, not the virtual one.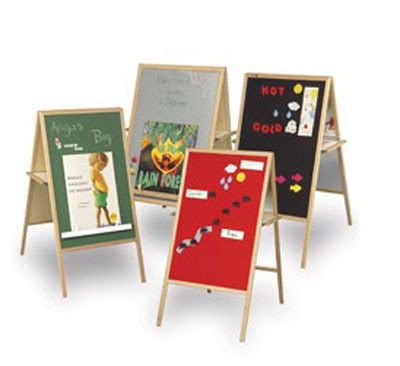 Sure, the pictures our very young offspring paint are simple and often very silly, but there is an excellent reason why they make us smile and laugh. There is no act more inherently human than creating something from nothing — something which may have no other use than to attempt to inspire an emotion in the creator and the viewer, that is, art. Of course, most of our children are not going to be great artists like Vincent van Gogh or even a terrific illustrator like Snoopy's creator, Charles Schulz, or my husband's super-macho favorite, Frank Frazetta. That's not the point.
Creativity is for everyone, not just geniuses. In a better world, all kids would be spending part of their day at presentation easels and just drawing whatever they feel like. The best play is creative and the most creative acts should be playful. Nothing creative is more elemental than simply picking up a pen or paintbrush and making something from nothing.
It really doesn't matter whether a kid draws a picture of pets, family, or Godzilla defeating Megalon (that was me). Drawing and painting is an act that energizes the mind and spirit. Of course, most of us won't be particularly good at it, but that isn't the point. Humans have been drawing pictures since the era of cave paintings and it's always represented the best of us. There's no reason to stop using childrens easels now.
Tagged: easel